Leather and Bone Artistry
Beautiful, unique leather and bone work! All designs can be customized for little extra cost, if any. The more detail, of course, the higher the price. And of course, if you have any ideas not pictured here, please let us know and we will let you know if we can make it happen! Items can be shipped for an additional $2 to $10, depending on item size. We combine shipping!
When ordering a bracer, please include the circumference, in inches, around your wrist. (Tip: Measure around with string, and then lay the string against a ruler!)
Note! Every item is made custom upon order. The items pictured are not the exact pieces available. Please allow 5-7 days for crafting. Each piece is handmade by the artist!
Custom Rune & Bone Bracer
A unusual bracer, inscribed with your choice of runes! Real fox bones decorate the leather. Bracer is closed with convenient snaps. Five runes can fit per bracer - when ordering, please let us know what you wish inscribed, and we will translate it to rune. Remember, spaces count!
Price: $20.00 for one, $35.00 for a pair

Two Trees Bracer
Now this is a beautiful piece! Made from tan leather, the whole bracer is flame-singed to a darker color before the edges - cut to resemble roots - are seared into hardened curls. The tree design is then dyed and wood-burn outlines into the final product. Black grommets line the edges, laced with high-quality leather stripping - none of that leather spool lace, which breaks easily!
Price: $45 for one, $75 for a pair

Custom Braided Wristband
Braided with the intriguing 'Mystery Braid', both ends of this braid are closed! This special braid is decorated with either runes or dots, in a color of your choice. It closes with two convenient snaps. Good for wear every day!
Price: $6.00 for one, $10.00 for a pair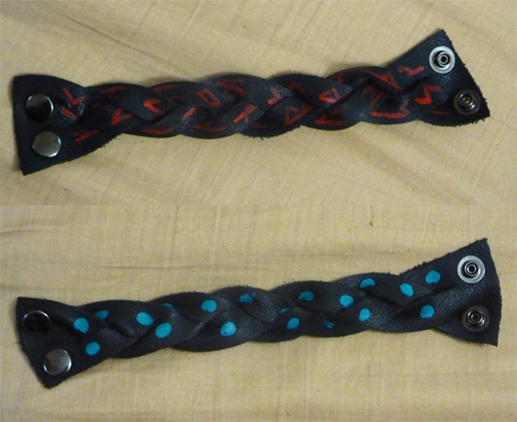 Genuine Painted Rabbit Skull!
A real rabbit skull, painted with beautiful metallic silver and deep green. No fake bone cast here! Every visible surface is painted in beautiful tribal geometric design. This unusual piece is sure to draw the eye!
Price: $15.00